Single Punch Pill Press Machine TDP-1.5 For Pharmaceutical Medicine Powder

Tableting Machine Detail:
Delivery Method: HKEMS, DHL, TNT, UPS, FEDEX, EMS, China Air Post etc.
Clearance Rate: 100% Custom Pass, Disguise Package and Safe Delivery
Delivery Time: 5-14 Working Days, Tracking Number Available
Payment Terms: T/T, Money Gram, Western Union and Bitcoin
Origin:China
Model1 TDP-1.5 Technical Parameter
Max. Pressure(KN) 15
Max. Tablet Dia.(mm) 12
Max. Filling Depth(mm) 12
Max. Thickness(mm) 6
Output Capacity (pcs/h) 6000
Motor(KW) 0.37
Overall Size(mm) 700×370×800
Net Weight(KG) 45
Model2 TDP-5 Technical Parameter
Max. Pressure(KN) 50
Max. Tablet Dia.(mm) 20
Max. Filling Depth(mm) 16
Max. Thickness(mm) 6
Output Capacity (pcs/h) 6000
Motor(KW) 0.75
Overall Size(mm) 700×400×800
Net Weight(KG) 125
Model3 TDP-6 Technical Parameter
Max. Pressure(KN) 60
Max. Tablet Dia.(mm) 25
Max. Filling Depth(mm) 16
Max. Thickness(mm) 6
Output Capacity (pcs/h) 5000
Motor(KW) 1.1
Overall Size(mm) 700×500×900
Net Weight(KG) 140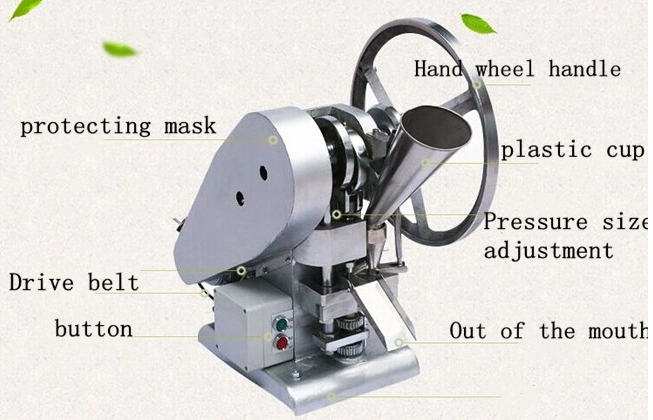 Product Descrption

1. The machine comes with a round circular mold, you can choose one from the size 5, 6, 8, 10, and 12MM diameter.
2.If you don't want to choose, the standard model with the machine is 6MM size.
3.And also we can customize the mold you need, you can contact us directly to talk about the size and the price of the mold you need. And we have the installing video of the mold.

Tableting Machine Usage/Application

For the pharmaceutical, health products, food, agriculture, chemicals, electronics, batteries, ceramics and other industries powder metallurgy production and experimental use, the machine is equipped of a die, filling depth of material of pressure, tablet thickness can be self-regulating.
Technical Parameters:
| | | | |
| --- | --- | --- | --- |
| Model | TDP1.5 | TDP5 | TDP6 |
| Max. Pressure(KN) | 15 | 50 | 60 |
| Max. Dia. of Tablet(MM) | 12 | 20 | 25 |
| Max.Depth of Fill(MM) | 12 | 17 | 17 |
| Max. Thickness of Tablet(MM) | 5 | 7 | 7 |
| Production Capacity(PC/H) | 5000 | 4500 | 3000 |
| Motor | 550w 1400r/min | 750w 1400r/min | 1100w 1400r/min |
| Machine size(MM) | 570x380x630 | 650x440x650 | 580x600x700 |
| Net weight(KG) | 92.5 | 125 | 160 |